Take a Tour With Us Through Our Logistics Center in Hemmingen.
In and Out – Incoming Goods
Short distances and high availability are decisive factors when it comes to fulfilling customer demands. An important part of the process is the inbound logistics area, where up to 25 trucks are handled every day at eight unloading docks. Our employees sort and inspect the incoming goods every day and record each and every cable and accessory electronically so that they can detect any defects immediately before sending orders on their way as quickly as possible. An automatic conveyor belt transports ordered custom cables, connection sleeves and entire cable drums directly to the outbound logistics area. Products that are not intended for shipping are stored in the HELUKABEL warehouse ready for the next delivery.
Stacked High – Our Fully-Automated High-Rack Storage
Storage space up to the roof. To serve customer orders quickly and flexibly, HELUKABEL stores a large portion of its products in the logistics center in Hemmingen. Two fully automated, interconnected high-rack storage locations are organised into 40,000 pallet spaces. Both entry into and removal from storage are fully automated as 16 driverless storage/retrieval machines place cable drums up to 1.5 tonnes in the correct rack along the 100-metre (328 ft.) long aisles and collect them again on an as-ordered basis. For larger cable drums weighing up to four tonnes, a total of 670 spaces are available in two heavy-duty racks, which are served with special heavy-duty storage/retrieval machines. The two high-rack storage locations are connected to the length-cutting machines by fully automated conveyor technology.
Speaking of Small Details – The Fully-Automated Small Parts Storage
For logisticians, there is no difference between a cable lug and a cable drum during product picking. Both have to be fetched, counted and assigned to the proper order. Therefore, the procedures in the small parts warehouse often determine how quickly shipments get onto the road. The small parts warehouse at HELUKABEL's Hemmingen headquarters is fully automated with six rack retrieval machines driving back and forth in six aisles collecting product from 36,800 storage places. They store and retrieve up to 1,000 containers an hour, and deliver accessories and cable coils to the order picking system, which is also automated. Customer orders are also temporarily stored in the distinctive red containers until the order is finally consolidated for shipping. This is another "little detail" that explains how the fully automated, small parts warehouse accelerates order processing.
Off the Reel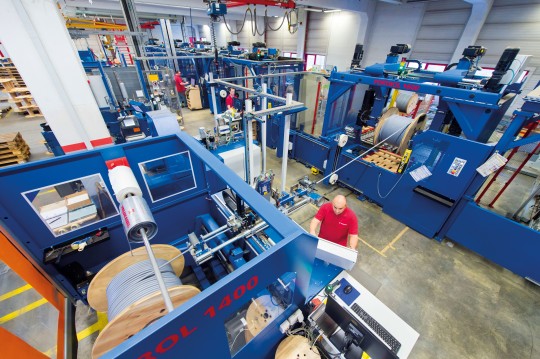 When ordering cables, if a stock length is not available, the cables can be cut to length. The required length is unwound from the source reel, wound onto the target reel and cut off – in a fully automated process. Even the transport from the high-bay warehouse to the cutting machines is taken care of by conveyor belts. Forklift trucks which could damage the cables with their sharp prongs have been banned from use in the cable processing chain. The cable is now unwound and at the same time wound on to reels or coils. The unwinding and winding machines are driven by a motor and synchronised by an electronic traction force monitor. This helps to prevent the cable from being overstretched. The automatic transfer of the cable onto reels and coils ensures that it is wound neatly and evenly. During this process, cutting data is documented and archived using calibrated and tamper-proof measuring instruments. This allows each ordered item to be tracked right up to of shipping by means of its individual packaging data.
Moving Large Items With Ease – At the Cutting Station
Large cables with an outer diameter of up to 100 millimetres (4 inches) are handled in our heavy-duty cutting station. Once a customer order is placed, the warehouse management system at the fully automated logistics centre in Hemmingen, Germany, initiates all of the necessary order fulfilment steps. The system selects the required drum from over 33.000 products stored in the high-bay warehouse and delivers it directly to the cutting machine using conveyor technology. Just a few minutes later, the drum arrives at the cutting station where the target drum is already waiting. The target drum selected depends on the bending radius that is required. This fully automated machine can even mount drums measuring almost two and a half metres (8 feet) and weighing up to four tonnes. A worker then pulls the cable from one drum to the other using the feed motor and completes the ordered cut. The motors operate simultaneously to prevent the cable from overstretching and ensure that the laying pattern is perfect. Finally, the conveyor technology delivers the labelled drum directly to the shipping department. This process allows deliveries to be made within 24 hours.
Packed with Care
HELUKABEL's customers are not only able to rely on quick shipments, but also on the secure and complete packaging of their goods. This guarantee is provided by a 20-member team working in two shifts at 10 pick and pack stations in the logistics centre. Their ergonomic workplaces are fitted with handling equipment specially developed for HELUKABEL. This does not only benefit the workers, but also the goods as it prevents the use of rough equipment such as forklifts. The pick-packers know which parts belong to what order from the assignments allocated to them by the warehouse management system. Furthermore, a digital screen showing them the number of drums, spools, boxes and other packaging types helps them to pack more efficiently. Each article is assigned a barcode which the packer scans. A visual inspection and comparison with the digital packaging screen provides additional assurance that the shipment is complete. The vacuum suction lifting tool then gently picks up the parcel and places it onto the shipping pallet. This accuracy pays off as it means the order arrives at the customer's premises complete, intact, on time and ready for use.
Agile Delivery
Customers who order goods from HELUKABEL do not need to exercise patience: generally speaking, orders received from Germany and a large part of Europe are processed and shipped within 24 hours. This agile service is provided by 26 employees at the Hemmingen site who pack and dispatch 200 tonnes of cable, wires and assembly components every day. They prepare the goods for shipping – if required, in accordance with customers' specific packaging instructions – before handing them over to the appropriate forwarding agent. Packages weighing just one kilogram as well as four tonne-heavy cable drums are sent on their way around the world by road, sea or air. And HELUKABEL's status as an Authorized Economic Operator (AEO) means simplified custom procedures with no delays. Goods inwards handling at the customer's premises should also be straightforward. If requested, HELUKABEL will organize deliveries using low-bed trailers with a forklift truck as well as a lifting platform or unloading crane. If the shipping address comprises just geographical coordinates, as in the case of a wind power plant, HELUKABEL logistic experts ensure delivery to the exact location in the open countryside.