HELUKABEL to Exhibit at Ludwigsburg's Vocational Training Fair 2022
Are you looking for an apprenticeship with excellent job prospects? Then make sure you visit our booth – either online or in-person!

What exactly does a warehouse logistics specialist do? What are the tasks of a commercial clerk in wholesale and foreign trade management? And what does one do as a system integration IT specialist? These are just a few questions asked by many young people every year who must decide on an apprenticeship programme once they finish their school education. Not only is choosing the right profession important, but also the right employer. After all, the company, location and colleagues must be the right fit, just like the tasks required of a future job.
Answers to such questions can be found at the vocational training fair (Berufsausbildungsmesse - BAM) in Ludwigsburg, where companies offering training programmes within the region present themselves and their apprenticeships to interested young people. This year, the fair will take place both online (07 to 20 March) and in-person (11 & 12 March in the Forum am Schlosspark). HELUKABEL will also be present: the specialist for cables, wires and accessories offers apprenticeships across multiple professions at its headquarters in Hemmingen and is one of the most attractive employers in the area.
"Our trainees are integrated into the team from day one and take on varied tasks with a high level of responsibility," reports training manager Alexandra Wellinger. "It is the norm for us to take on the trainees after they have successfully completed their training. In this way, we offer young people secure and long-term future job prospects."
Two of these young people are Giulia Petrolo and Loris Rizzuto: both are currently completing their vocational training at HELUKABEL - and have also taken on a very special additional task. "Together with other trainees, we are part of the IHK Apprenticeship Ambassadors Initiative," describes Giulia Petrolo, a prospective industrial sales representative in her second year of training. "We visit graduating classes of high schools, secondary schools and comprehensive schools and present our professions and companies." "Our goal is to get students excited about vocational training and about HELUKABEL," adds Loris Rizzuto, third-year warehouse logistics specialist. "This is easy for us because we ourselves have a strong sense of well-being at HELUKABEL."
Alexandra Wellinger is very pleased by the level of trainees' involvement: "The fact that our trainees identify so much with HELUKABEL and actively recommend us as a company shows me that we are on the right track with our training concept." The training manager is looking forward to once again meeting numerous interested young people at BAM 2022. "Because talented young people are always in demand in a growing company like ours!"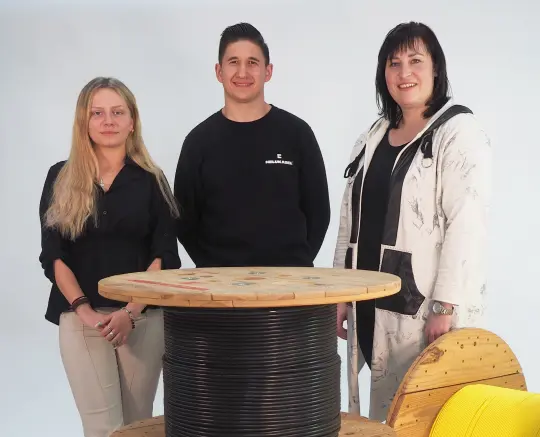 Ambassadors for successful training (from left): Trainees Giulia Petrolo and Loris Rizzuto with HELUKABEL training manager Alexandra Wellinger. (© HELUKABEL)
Further information on the vocational training fair Ludwigsburg can be found at www.bam-ludwigsburg.de
You can find open apprenticeship positions and job offers at HELUKABEL here
Back